Perfect Ending | Pure Global Helps Beijing Kewei Clinical Diagnostic Reagents Co., Ltd. Obtain CE 1434 Certificate!
Pure Global is thrilled to announce that we successfully assisted Beijing Kewei Clinical Diagnostic Reagents Co., Ltd. (referred to as "Beijing Kewei" below) in independently developing a new coronavirus antigen rapid detection test kit, which has obtained the IVDD CE 1434 certificate certified by the EU public announcement organization, thereby obtaining access to the European market.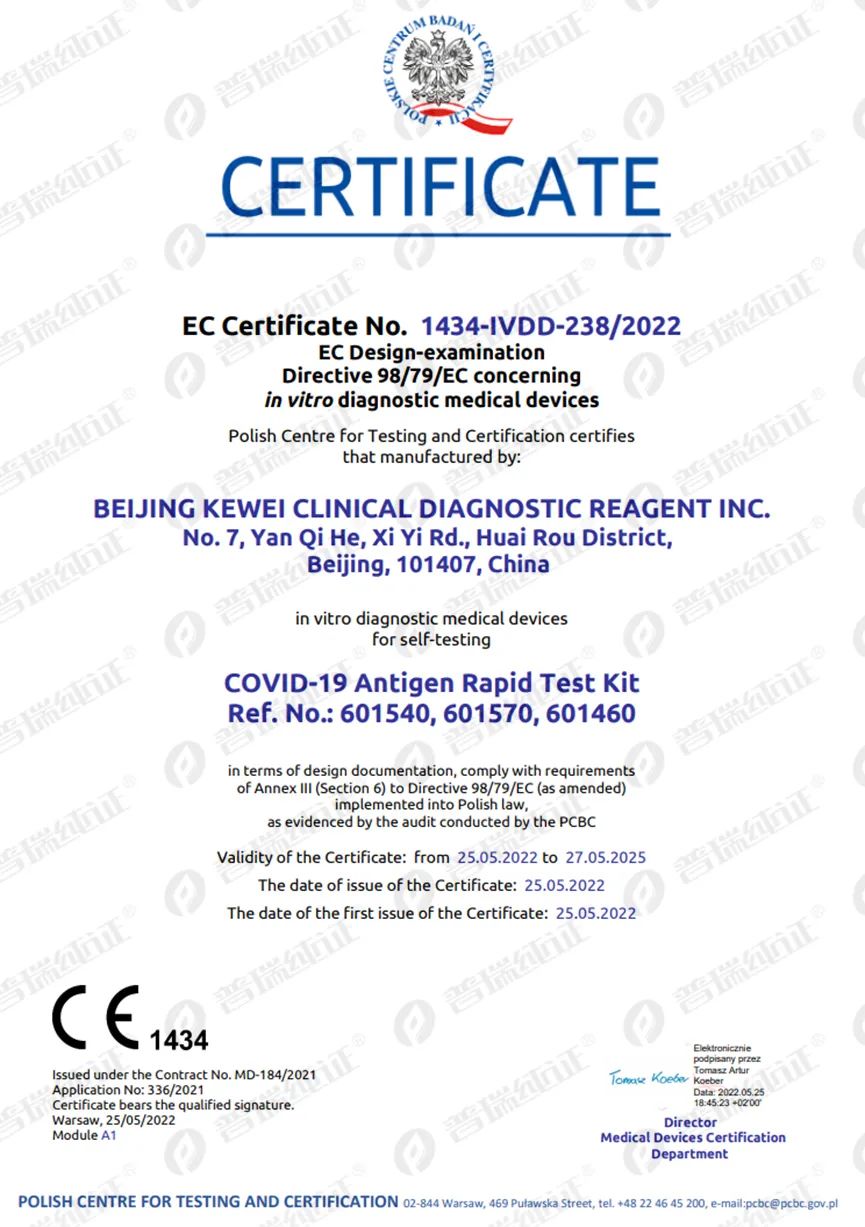 The new coronavirus antigen self-test kit certified by Beijing Kewei this time uses advanced lateral flow immunochromatography assay (LFIA) technology and can detect results using nasal, pharyngeal, or nasal-pharyngeal swabs within 15 minutes. The product has superior performance, with a sensitivity (probability of detecting a positive result) of 96.18% and a specificity (probability of detecting a negative result) of 100%. It contributes to the global pandemic prevention and control and demonstrates China's strength. We warmly congratulate Beijing Kewei for passing the strict review of CE self-testing certification and expanding its overseas market share. The company's efforts in the field of coronavirus testing have paid off!

Beijing Kewei, established in 2004, was formerly known as Beijing Kewei Clinical Diagnostic Reagents Factory, founded by the People's Liberation Army 302 Hospital in 1990. In 2013, through equity changes, Beijing Kewei became a wholly-owned subsidiary of Nantong Ishi Biotechnology Co., Ltd., achieving a strong alliance. After the merger, the company's product line covers enzyme immunoassay, chemiluminescence, gold standard rapid diagnosis, semi-automatic instruments, and fully automatic instruments. It also integrates the overseas market and domestic clinical market channels of the two companies, achieving complementary advantages and laying a solid foundation for becoming a leading domestic manufacturer of in vitro diagnostic reagents.
In this strategic cooperation with Beijing Kewei, Pure Global successfully completed the entire application process and obtained the CE 1434 certificate for our partner in a limited time. This fully demonstrates Beijing Kewei's research and development and quality strength and once again showcases the professionalism and efficiency of Pure Global
The European market's requirements for IVD products are constantly changing, and Pure Global 's expert team has a deep understanding of the regulatory policies of various European countries. We can help customers find the best solution with professional knowledge and first-class responsiveness, and quickly enter the overseas market. We are honored to assist outstanding Chinese brands like Beijing Kewei in expanding their international market layout and contribute to China's companies' global expansion! In the new era of IVDR, Pure Global will continue to work with Chinese manufacturers to compose a new chapter of brilliance!