Success Story | Pure Global team assists Jiangsu Baoshilin Medical in obtaining EU CE certification
Pure Global PureCert is pleased to announce that we have successfully assisted Jiangsu Baoshilin Medical Technology Co., Ltd. ("Baoshilin Medical") in obtaining the IVDD CE 2934 certification from the EU notified body for their self-testing kit of rapid antigen detection test for COVID-19 designed for personal and home use. This enables sales in the 27 EU member states and countries recognizing the EU CE certification.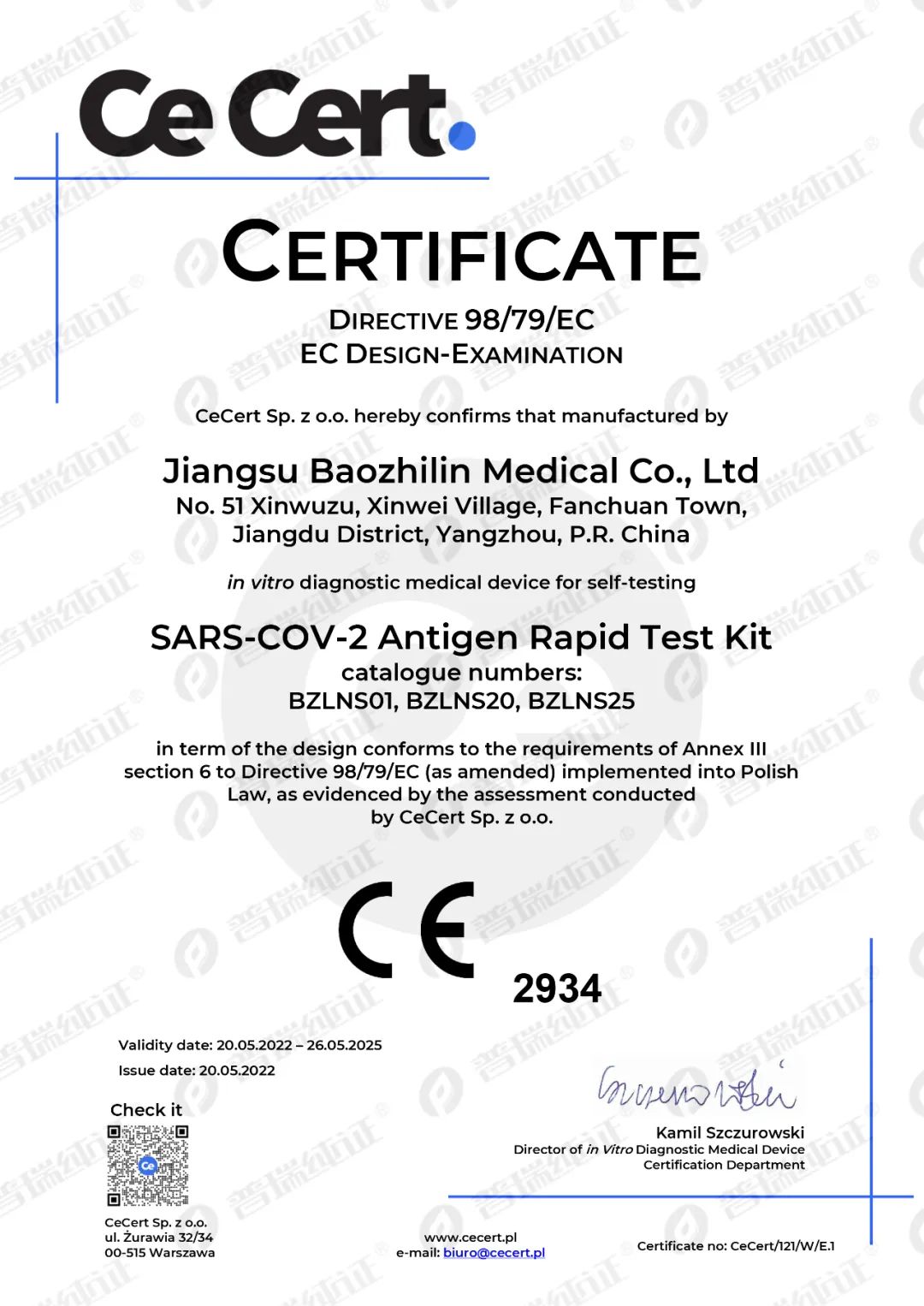 Self-test products for COVID-19 antigen testing fall under the supervision of IVDD and require rigorous technical reviews and testing of the manufacturer's products by a third-party notified body (NB body) recognized by the EU. The product's safety and clinical performance must be proven to be reliable and meet international technical standards before the CE certificate can be issued. We congratulate Baoshilin Medical on successfully obtaining a pass to the EU consumer market after such a strict review!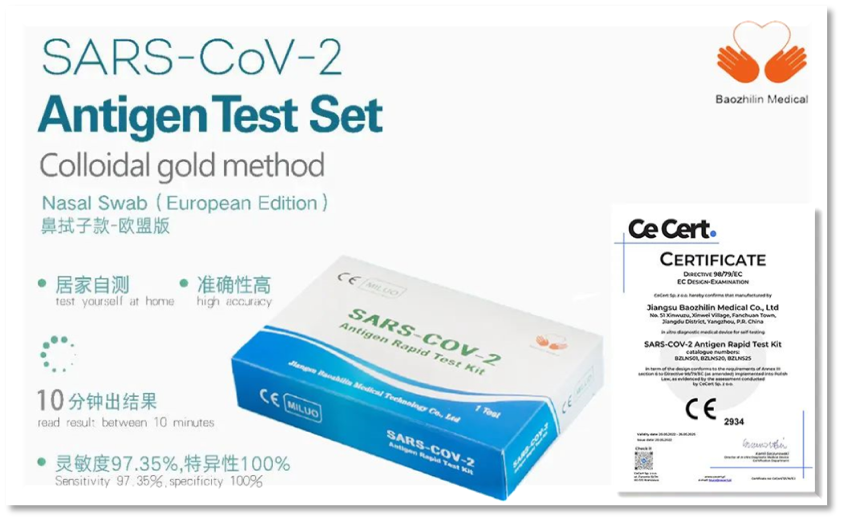 The Baoshilin Medical SARS-COV-2 Antigen Rapid Test Kit for COVID-19 antigen rapid detection uses a colloidal gold method and a nasal swab detection method, which can quickly detect results within 10 minutes. The test is simple and convenient, meeting the needs of daily home antigen testing. Meanwhile, this product is accurate, with a sensitivity of up to 97.35% and a specificity of 100%, greatly improving the ability to detect cases early, helping to early triage and rapid management, and effectively assisting in COVID-19 testing globally.
Jiangsu Baoshilin Medical Technology Co., Ltd. is located in Yangzhou, China and is a high-tech company specializing in biological research, medical equipment, AI laboratory production, and sales. The company has its own independent laboratory, research and development center, and production base. Currently, Baoshilin Medical's independent brand "Milo" virus collection tube, sampling swab and cell preservation solution, antigen and antibody, and neutralizing antibody rapid detection test kit and other epidemic prevention products have been widely used during the pandemic, winning high recognition from the industry.
In this cooperation with Baoshilin Medical, the Pure Global team fully demonstrated our strength and speed in the CE application process, helping our partners to catch the last bus of IVDD and successfully enter the European market before the deadline on May 26th. Baoshilin Medical's high-quality products and Pure Global 's comprehensive "one-stop" services from application acceptance, technical document guidance and review, to clinical trials, worked together to contribute to the global fight against the pandemic.
Success is not achieved overnight, but through constant effort. Let us congratulate Jiangsu Baoshilin Medical Technology Co., Ltd. on their successful acquisition of the CE certificate, and hope that more Chinese medical enterprises can work together with Pure Global in the era of IVDR, making progress together and expanding the Chinese-made IVD industry into a broader overseas market.